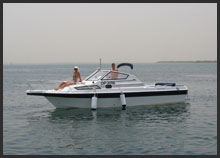 FLAMINGO BEACH RSORT - UMM AL QUWAIN UAE
Flamingo Tour
Experience the flamingo tour an ISLAND- WATCH BOAT-RIDE around the rich mangrove islands in the umm Al Quwain lagoon that houses numerous species of birds. You may be able to see flocks of beautiful flamingos and don't forget to grab your snorkeling gear, because, during the tour, you will get a chance to snorkel in the Crystal Clear Waters of the lagoon abundant in marine life.
DEEP SEA FISHING
FROM UMM AL QUWAIN
Experience the thrill of Deep Sea Fishing, in the waters of the Arabian Gulf . In best equipped and expertly maintained boat, we offer a wide range of activities, our professional staff and crew members are very experienced and courteous, our service is simply the best.
* Deep Sea fishing charters are suspended at the moment untill further notice
Sea abundant with
Small Sardines
Kingfish
Queen fish
Barracuda
Tuna
Red Snapper
Sherri (Emperor)
From Flamingo Resort - Umm Al Quwain to the best fishing spot of the Gulf will take 20-30 mins into the calm sea.
The fully equipped boat will also provide all fishing and safety equipment, bait, soft drinks, water and packed food.
Our charters are tailor made to 2 hours, Half day & Full day.
Decide to take your prized catch; else our chef will get the catch grilled.