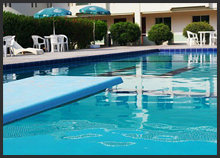 FLAMINGO BEACH RSORT - UMM AL QUWAIN UAE
Relax and rejuvenate in our luxurious oasis created just for you. Flamingo Beach Resort also offers abundant amenities to enhance your family holiday to new heights of comfort.
Pool
Soothing waters and secret elixirs provide a rare haven of relax and rejuvenation. Enjoy the fresh peaceful waters in our Large Pools and experience the invigorating sensations of relaxing in our Jacuzzis. The Resort offers your family a unique poolside experience.
Register with our attendants for complimentary towels and lounge chairs, then relax and enjoy the personal service of our poolside beverage attendants.
Paddle Pool
The kids paddle pool is clearly marked for a complete family experience with artificial waterfall for exciting water fun. You can be rest assured of your privacy and children's safety is our bench mark.
Private Beach
Clear blue waters which shores smooth and shallow beaches are resorts private asset. Your whole family would be immersed in pleasures of the Arabian Sea, along with abundance of sea life. Cloak rooms with lockers and showers on the beach will thrill your experience of beach holidaying.
Gardens
Landscaped plush gardens, with trees to provide ample garden relaxing is a treat in the resort. A wooden bridge over a small creek, a water castle full of sea life with enough space to run and roll and then to rest on wooden park benches will be testimony for your kid vacation.