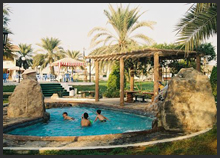 FLAMINGO BEACH RSORT - UMM AL QUWAIN UAE
The ideal place to organize your family parties and Corporate get together events etc;
Flamingo Beach Resort is a popular destination for weekend water sports enthusiasts as the costal waters are clam and safe for all ages. The abundance of marine life makes it a regular visiting place for fishing lovers.

The pier is provided with fishing benches and equipments are available on rent at the resort. You can charter boats for an exclusive boat ride around plenty of mangrove islands and watch natures beauty in the full zest.
A dedicated barbecue setting close to the shores with our special BBQ chef for assistance will assure you a complete charcoal lit experience. Following lodge tradition, whatever you catch would be cleaned, cooked and served for your family at our barbecue point.
You can also feel at ease and use our garden volleyball courts set to the rule of the game to flex your skills and muscles.