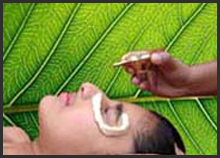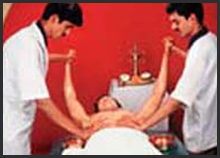 FLAMINGO BEACH RSORT - UMM AL QUWAIN UAE
Ayurveda- the science of life describes the way of healthy living. The vision of natural and historic approach to a harmless healthcare is the basis of daily routine of ayurveda. The herbal therapies, if followed as a regular system, will necessitate stress-free mind and refresh the body.
Seven Wonders from the world of Ayurveda is the best choice for enjoying the holidays, by providing relaxation and sound sleep. Balanced Metabolism is a time-tested and proven strategy for a perfect living. Programs included in the Seven Wonders like Health Vision, Stream of Passion, Bliss Therapy etc., renders the symphony of health blended with leisure & enjoyment to the hectic and imprudent modern life.
Enjoy the nectar of eastern science for harmony with nature.
Seven Wonders From World Of Ayurveda
1. Rhythm of Life (60 min)
For relaxation
Relaxes and refreshes the muscles.
Improves the blood circulation.
Harmonizes the Body, Mind & Soul.
2. Tranquility (45 min)
For Body & Joints- 5 sessions suggested for effective results
Balances the emotional and spiritual level of person.
Tones up tissues after removal of excess fat from the body.
Removes toxins and arrests arthritis and rheumatism
3. Fortune Heal (90 min)
For Stress Relief
Helps unwind body and mind
Strengthens the fatigued & strained muscles and joints.
Improves sleep and blood circulation.
4. Steam of Passion (45 min)
For Vision Enhancement – 5 sessions suggested for effective results
Relaxes muscles of the eyes
Improves vision
Strengthens the optic nerve
5. Body Scrub (90 min)
For Spinal Column – 3 sessions suggested for effective results
Strengthens the Skeletal System especially the lower back
Relaxes the stressed spine and relives back pain
Lubricates the discs of backbone and relieves sciatica.
6. Bliss Therapy (90 min)
For Abdomen & Nose – 3 sessions suggested for effective results
Relaxes bodily impurity through sweat glands.
Mobilizes fatty tissue and burns body fat deposit.
Prevents headache, paralysis and mental disorders, cleans the nasal cavity and arrests spondylitis.
7. Health Vision (45 min)
For E.N.T. – minimum 5 sessions for effective results
Relaxes stress & strain, improves the worn out eyesight.
Prevents premature graying of hair, hair fall and dandruff.
Rejuvenates the central nervous system, nourishes the brain.